Dr. Anne Masloski
Dr. Anne Masloski, owner of Mass Veterinary Services, received her Bachelor of Science degree in Animal Science from UMASS Amherst. She then received her Doctor of Veterinary Medicine (DVM) from Tufts University School of Veterinary Medicine and did her residency in internal medicine at VCA All Care Animal Referral Center in Southern California.
Dr. Masloski lives with her three cats Cali, Marvin, and Pinkie. She enjoys snowshoeing, reading, zip lining, hiking, and running-especially in the snow. Dr. Masloski joined our practice in April 2018
Dr. Kelly Chameroy
Dr. Chameroy joined Mass Vet Services in March of 2022. She received her BS and MS from UCONN in Animal Science as well as a PhD from University of Tennessee In Endocrine Disorders in horses. She received her Veterinary degree in 2015 from the University of Tennessee as well. 
Dr. Chameroy's interests include behavior and rehabilitation with alternative therapies such as laser therapy and PT. She lives at home in CT with her three dogs Sandy, Remy, and Fizzgig.
Nicole Kepner, Practice Manager
Nicole attended Roger Williams University and has her Bachelors of Science degree in Marine Biology. She also spent 6 months in Australia attending James Cook University and working at a wildlife rehabilitation center. She was a technician supervisor and critical care ICU tech in a busy 24 hour emergency facility. Nicole lives in Somers, CT with her family, two goldendoodles, 2 cats, and their bird. Nicole joined our practice in April 2018. In her free time Nicole enjoys horse back riding, going for hikes, and spending time with her family.
Annie
Rosenstreich

, CVT

Annie lives in Wethersfield, CT with her boyfriend Corey and two cats Pickle and Murphy. She went to Becker College and received her associates degree in veterinary technology as well as her veterinary technician certification. Annie has worked in general practice, emergency medicine, and internal medicine. She enjoys spending time with her two nieces and two nephews, feeding the wildlife in her back yard, and enjoying brewery tours. Annie joined our practice in April 2018
Kristi Gaudet, CVT
Kristi attended Holyoke Community College and received her associates in Animal Science as well as her veterinary technician certification. Kristi lives in Holyoke with her three dogs Miley, Oscar, and Marley. Kristi started off in general practice for three years then became the head ophthalmology technician in a busy emergency and specialty hospital for three years as well. Kristi enjoys working out and hair dressing on the side. She came to Mass Veterinary Services in February of 2019 as our cardiology technician.
Jason Diaz
Jason joined Mass Vet in September 2021 and has worked in general practice for over 10 years. He enjoys gaming and working out and is a huge Star Wars fan. Jason shares his home with his three cats. Jason grew up in South Carolina, but has lived in New England for over 8 years now.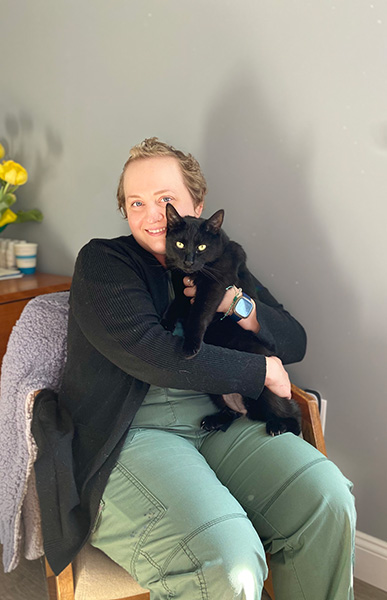 Justine Cadieux, CVT
Justine joined Mass Vet in March 2022 and has over 12 years experience in emergency and critical care medicine. She received her CVT in 2010 from Bel-rea in Colorado. She lives in Windsor, CT with her boyfriend, 2 dogs, 5 cats, 4 snakes, and their African Grey, Charlie. Justine enjoys going to festivals and concerts and hiking. 
Teddy Bear, Hospital Mascot
You can find Teddy Bear, our hospital mascot here a couple times a week lounging on the couch or comforting the pets that need to stay here for the day for a procedure.
Visit Our Office
305 Suffield St, Agawam, MA 01001